This is a Sponsored post written by me on behalf of Kia Rio for SocialSpark. All opinions are 100% mine.
Kia Rio and Spotify have become partners to develop a play-list which they shall call "Best Songs with your Windows Down" playlist. Using the spotify application or the Rio Playlist tab on Rio Facebook page, users can contribute their songs and get them included in the play-list.
 
The Rio playlist will be promoted via display media and audio spots throughout the Spotify application. Users that click on any of the Playlist promotional units will launch a branded lightbox where they can submit a song. To extend reach outside of the Spotify environment, a Facebook application was created on the Rio Facebook page. Similar to the lightbox, users can submit a song and view playlist. Finally, users can subscribe to the playlist or share it with their friends.
 To submit a song, all you need to do is visit  "Best Songs with your Windows Down" playlist on facebook.  Search and spot your song based on name / artist. Once you select your song, you need to give your name and email id (not shared) and submit it. You are done.
  After verification, th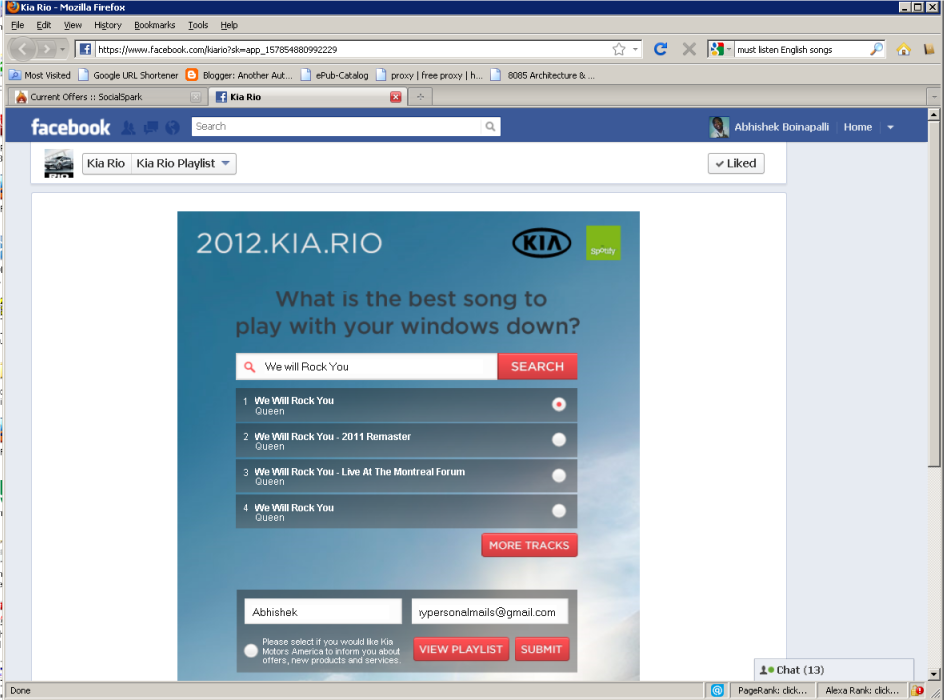 e song will be included in the play-list. What more? You can use the View-Play-List link on the facebook page to check out the songs already included in the list.  Please Note, to check the entire play-list you will have to download the Spotify application and install it once for all. A simple and easy process of-course.
   Just a word, kindly keep coming back to find updates about the list, the songs submitted by your friends and family and of-course to be lost in the world of dreams, humming and dancing to the BEST SONGS WITH YOUR WINDOWS DOWN PLAYLIST.  To make all this more and more interesting, we have the Voice-Activated UVO Infotainment System thanks to Microsoft.
  I have of-course gone there right away and submitted "We Will Rock You" by Queen as my song. For the song has the craze, the lyrics that drive me crazy. The music itself is quite cool.   Hey, don't forget to let me know about the songs you have submitted for this play-list.
with warm regards
Abhishek Boinapalli